How to travel from Boryspil airport to Kiev
There are two international airports that serve Kiev, larger and more modern Boryspil airport and the lesser important Zhulyany airport. The older Zhulyany airport is located only 7 km to the south of the city but mainly handles domestic flights and a few international flights. Boryspil airport is the primary airport of Kiev, which serves both domestic and the overwhelming majority of international flights. It is located 29 km to the east of Kiev and 40 km from the historic center and this distance means that visitors should consider their onward travel arrangements before arriving at Kiev airport. This guide will provide an overview of the best means of travel from Boryspil airport to Kiev and then detail the facilities found at the airport.
Travel to/from Boryspil airport
Most international flights arrive and depart from terminal D of Boryspil airport. Once through passport control and luggage collection you will be more than likely approached by people offering to carry your luggage. Simply ignore them, otherwise you may be ripped off or directed to an overpriced taxi. Taxi transfers from Boryspil airport are the easiest means of travel to Kiev and are the recommended means of travel, see later in the article for public transport options. The average rate charged by the taxis is about 0.40-0.50 Euro (7-10 UAH) per kilometer. Prices are negotiable (but usually stacked in the favor of the driver) and always arrange a price before leaving the airport. For a guide to Kiev's taxis please click here.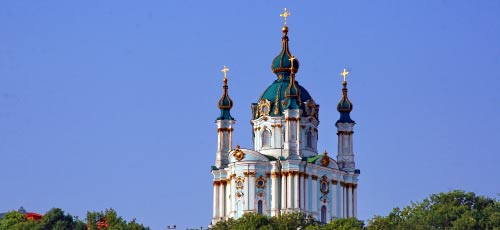 Saint Andrew's church
A typical journey to central Kiev, for instance, to Khreshchatik – the main city street, would cost no more than 20 Euros. The real price lies in the range from 11 to 17 Euros but locals can only expect to pay this! The journey should take from 25 to 40 minutes depending on the traffic. The main problem with taxi travel is that most of the drivers do not speak English. Recently, however, a few English-speaking taxi services have appeared in Kiev: Lingo Taxi (lingotaxi.com; tel.: + 38 094 712 2034), Happy Go Taxi (happygotaxi.com; tel.: + 38 063 739 2369), Welcome Taxi (welcometaxi.com.ua; tel.: + 38 094 710 5663). They provide comfortable transfers from Boryspil airport for fixed but higher prices starting from 22 Euros (depending on car class).
Kiev is full of stunning monuments
Unfortunately, there is no metro line connecting Boryspil airport with Kiev. Boryspilskaya Metro Station is the closest to the airport but is about 10 km away so is not a suitable option. Taking a bus represents a cheaper way of travel to the city centre. There is a special 24-hour Sky bus service, which provides regular transfers to and from Boryspil airport. The ticket may be bought either at the ticket offices in D terminal of the airport or in a driver, and costs 50 UAH (approximately 3 Euros). The journey takes less than 1 hour. The departures from B and D terminal are every 20 minutes during daytime and approximately every half an hour at night.
The bus terminates at the Pivdenny railway station, the main railway station of Kiev and passes near the Kharkovskaya Metro Station on its way. Although the Pivdenny station is in the centre of Kiev there are few hotels in this district. Therefore, you will have to either take the metro at Vokzalnaya Metro Station (Red Line), which is one of the most constantly overcrowded stations or catch a taxi. Both variants are difficult when tired and traveling with bulky luggage. Therefore, if you want to go directly to your chosen hotel with the least fuss and unnecessary transfers take a taxi or organize pre-arranged transfer.
The vivid exterior of Saint Vladimir's Cathedral
Boryspil airport
Boryspil airport is the main gateway of Ukraine handling 7-8 million passengers per year, with 50 international airlines perform scheduled flights to over 100 international destinations. Boryspil has all the standard airport services including currency exchange, duty-free, car rental, left luggage and ticket sales. Boryspil is sometimes referred to as Boryspol (which is the Russian translation)
Facilities at Boryspil airport
The facilities of Boryspil airport meet the requirements set for an international airport but are far from excellent. The one main good point of Boryspil airport is the there is free Wi-Fi. There are many duty-free shops once through security offering a wide variety of goods. Numerous cafes, restaurants and snack bars are available in terminals, public areas and airside. There is also a smoking zone once through security.
In the arrivals lounge there are currency exchanges, ATM's and banks. The currency of Ukraine is the hryvnia (hrn) and this can be withdrawn from the ATMs in the arrival's hall. Taxi drivers and bus drivers are not willing to accept large bank notes and may even refuse to change them. Several international car rental companies (Avis, Europcar, Sixt, etc.) have offices in Boryspil airport.
As a warning: it is highly recommended to put valuables in hand luggage as there have been reports of items mysteriously "disappearing" from suitcases. This, perhaps, has given rise to the extremely popular luggage wrapping services, when you get it thoroughly wrapped with several layers of transparent film and secured with plastic straps.
Boryspil airport overview
Although Boryspil airport is rather new, it has been recently subjected to several reconstructions and modernizations. Thanks to them, its appearance has improved significantly, and it has become considerably better than some years ago. Opening of a new modern terminal D in 2012, which has become the main terminal for international flights, resulted in further improvement of the airport image. Of course the airport has not completely get rid of passport control and security queues, and departure delays occur from time to time (mostly due to adverse weather conditions), but the airport does its best to constantly improve its services.