Kiev Subway Guide and 2016 Metro map
Kiev metro is by far the most reliable and fastest means of transport, especially when traveling to the opposite side of the Dnieper River. There are three metro lines, covering about 70 km of track and are served by 52 metro stations. Kiev metro is modern, safe, and all visitors are encouraged to use the metro to explore Kiev. This guide will provide an overview of the metro including fares, key stations and an up-to-date metro map.
Kiev Metro Tickets and Fares
There is a flat-rate fare in Kiev metro. As of 2015, it constitutes 4 hrn (less than 0.25 Euro) and does not depend on your destination or the number of transfers between lines. It means that you may, if you wish, ride the metro for the whole day! To purchase your ticket you have to buy a small green plastic token.
This token can be bought from metro stations, either from the ticket offices or from the ticket machines found in station lobbies. The ticket machines have instructions in English and Russian and are advised for visitors who speak no Ukrainian. It is recommended to purchase several tokens at once, so that not to buy them every time you are going to take the metro. With token in hand go towards ticket barrier and put the token in the slot. Wait for the light to turn green and pass through the barrier (at some stations you need to push the barrier).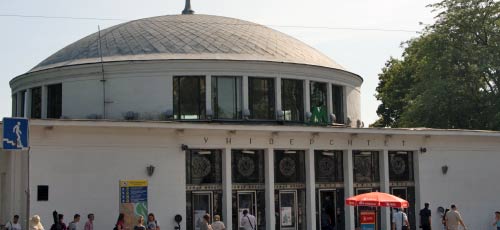 Universitet metro station
Instead of tokens, you may purchase (from the ticket offices) a contactless card (it costs 0.50 Euro), which could be loaded for up to 50 journeys. It should be placed over the card reader of the ticket barrier. The card is refundable. However, we would not recommend this method of payment, unless you are fluent in Ukrainian or Russian.
Kiev Subway Information
The metro opens from 6:00 and operates until the last train at 24:00. Departure times depend on the line, time and day but there is typically a departure every 2– 3 minutes during the rush hours (from 7:00 to 10:00 and from 17:00 to 20:00) and every 5-10 min outside of these hours and at the weekends and holidays. While in the metro, be alert and aware of people around you, as pickpocketing does exist in Kiev metro.
Kiev Parliament building
Never give money to beggars. It is highly recommended to avoid travelling at peak-hours when the cars, platforms and escalators are full of people. If travelling late at night always sit in a busy car. Entrances to metro stations are marked with large green letter "M". Actually, most of them look rather similar. Thanks to Euro 2012 there is now, at least, some relevant information in English at many stations as well as in metro cars, in which the announcements of stations are made both in Ukrainian and English. These innovations made the foreigners' travel a bit easier.
Kiev Metro Routes Overview
There are three subway lines, which are conveniently color coded: red, blue and green. All these lines intersect in three places, thus allowing the passengers to move from one line to another without exiting the metro. Most of tourist attractions in Kiev are concentrated in its central districts and are easily accessible by metro. The most tourist interesting metro stations of the Red line are:
Arsenalnaya - to visit the world famous Kiev Pechersk Lavra, and Spivoche Pole (The Singing Field) – an air-open area, where the most interesting cultural events, attracting many people, are regularly held. Arsenalnaya metro station is the world deepest station at 105m below ground.
Khreshchatik - the main street with its numerous cafes, restaurants, pubs and bars.
Universitet (The University) - to visit the stunning St. Vladimir's Cathedral, or the monument to Taras Shevchenko – the greatest Ukrainian poet.
Those of the Blue line are:
Maidan Nezalezhnosti (Independence Square) - to visit grand Mikhailovskaya Square with its amazing St. Michael's Golden-Domed Cathedral, which was completely destroyed by the Soviet authorities and reconstructed in 1999.
Pochtovaya Square - to enjoy the slow ride on funicular, which is open from 7:00 to 22:00 every day, a ticket costs 0.12 Euro.
Kontraktovaya Square (Contract Square) - to stroll about the charming Andreevsky Descent with its numerous attractions, such as the airy St. Andrew's Church, the extraordinary looking Castle of Richard the Lionheart; you may also take a trip on tram-café and combine exploring ancient Podil district with coffee drinking.
Kiev Metro Map 2016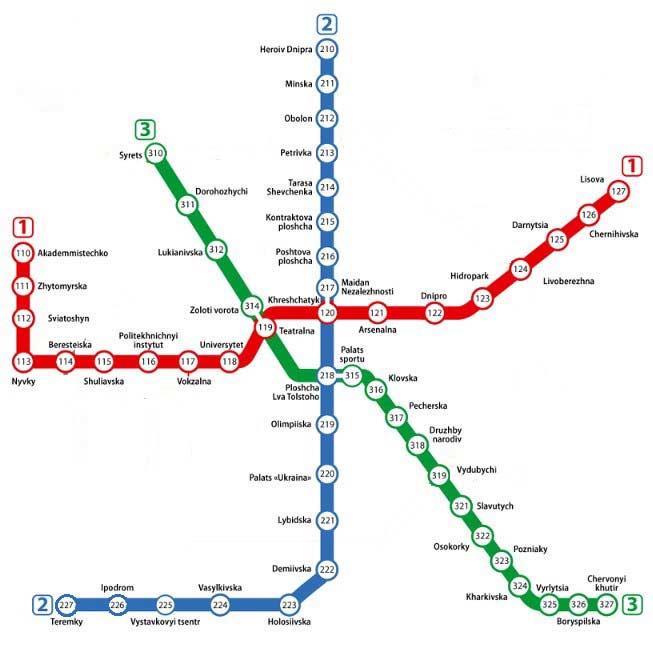 The 2016 metro map of Kiev
History of Kiev Metro
Construction of Kiev metro was initiated in 1949, however the first segment of the Red line was put in action only 11 years later. The initial metro was only 5.2 km and connected the main train station of Kiev (Vokzalnaya metro station) to Dnepr station. This segment included the world deepest (106 m) Arsenalnaya metro station. 5 years later the metro overstepped the Dnieper on a two-level Metro bridge and connected both banks of the river. Construction of the second (Blue) line was started in 1971 with the first segment from Maidan Nezalezhnosti (Independence square) to Kontraktova square put into operation in 1976. Both lines were gradually extended. The first segment of the Green line began functioning in 1981. Three lines of the metro meet in the centre connecting 52 stations.